Challenges in a COVID World
Covid-19 has brought to the forefront not only challenges in what to provide as optimal treatment but also a very unique challenge of who will provide it. Nurses are consistently the "most trusted" workforce across the globe.(1) This disease and its resulting pandemic have created a barrier to a few of the foundational blocks of nursing training at a time when it is needed most:
The ability to recruit accurately and effectively was hampered by the lack of face-to-face interview/interaction that is especially critical to nursing, which is one of the highest touch/face-to-face professions in the world.
The ability to effectively onboard new nurses who entered the profession at a time when they are needed most, yet resources and focus were not present or available.
Nurses do not leave even the toughest healthcare situations – they leave suboptimal managers/leaders who provide inadequate orientation and onboarding. We also know that frontline nurse leaders are the recruitment linchpins in their organizations.
Many authors have provided a variety of tools. A recent article by Rose Sherman(2) concerning new graduate nurses and onboarding in the backdrop of a pandemic highlights these very important tools. Any tools that can be used by all frontline nursing leaders are extremely valuable in reversing a dangerous trend brought on by Covid-19: sub-par onboarding.
Tools To Guide Your Onboarding Process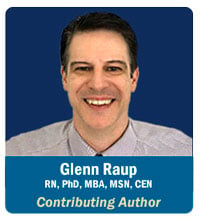 During a pandemic, any processes that can ensure efficient and supportive onboarding are critical. Throw in surges where urgency drops and then picks up again, and the need for these processes is absolutely critical.
The list of tips and tools below are extremely applicable to triage trainers, now more than ever. Furthermore, nurse leaders at all levels, from charge to manager, can be proactive today in their own settings by taking some or all the following steps to ensure effective onboarding:
Present a realistic picture to new graduates about what to expect in your environment. Be transparent about the issues and challenges you are working on.

Be hands-on with the onboarding of new graduates; do not delegate this to nurse educators or preceptors with no follow-up.

Assess potential skill gaps constructively and positively. Give your new nurses hope by telling them they are learning and growing.

Select and give positive recognition to preceptors who are supportive and enjoy working with new graduates.

Observe for signs of bullying of new graduates by other staff and promote a zero-tolerance culture.

Schedule frequent check-ins with new graduates throughout their first year of practice, especially after the conclusion of the residency program.

Monitor patient care assignments that are given to new graduates and follow up to see if they are appropriate.

Help new graduates with their communications with physicians and other departments by observing for signs of disrespect or the new graduate's lack of confidence.

Be visible on the unit and seek feedback from new graduates about their experiences.

Ensure that the new graduate attends all the orientation and other support classes offered by the agency despite staffing shortages.
Going Forward
Effective onboarding has never been more important, especially when it's the foundation of ongoing triage competency. Using these tips, preceptors, mentors and official leaders in nursing and healthcare can help ensure authentic support during the toughest times in a person's career – onboarding into a new profession.
References:
(1) Gallup Poll. U.S Ethics Ratings Rise for Medical Workers and Teachers. December 2020. Retrieved from: https://news.gallup.com/poll/328136/ethics-ratings-rise-medical-workers-teachers.aspx.
(2) Sherman, R. What New Graduates Need from Nurse Leaders This Year. May 2021. Retrieved from: https://www.emergingrnleader.com/ what-new-graduates-need-from-nurse-leaders-this-year/.