There have been some interesting, and some frightening, developments in case law relating to healthcare risk management since the last annual meeting of the American Society for Healthcare Risk Management (ASHRM). While these cases may not have national importance (yet), they have concerning implications for healthcare.
In Southern Baptist Hospital of Florida, Inc. v. Charles,¹ the court of appeals in Florida rejected a discovery request for materials that were not protected by "Amendment 7" of Florida law, but that constituted patient safety work product under the federal Patient Safety and Quality Improvement Act of 2005.² The court noted that federal law preempted state law in this context and that the materials were protected from discovery. It should also be noted that the Supreme Court of the United States denied certiorari in Tibbs v. Bunnell,³ in which the Supreme Court of Kentucky held that incident reports that were required to be produced by state law were not protected as patient safety work product.4 Although the preemption of state law by federal law is generally considered Constitutional Law 101,5 this issue is curiously unresolved.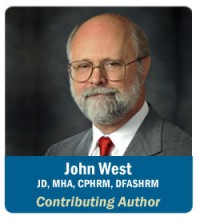 In Allen v. Harrison,6 the Supreme Court of Oklahoma disregarded longstanding precedent from other states and held that the patient's informed consent is required before both invasive and non-invasive procedures. The court also did not address whether a material risk of harm must be present to require the patient's informed consent. In this case, the patient had swallowed a nail; the physician advised her to eat a high fiber diet, presumably to allow the nail to pass. The patient suffered a perforation of her gut and required extensive surgeries. The court held that she had a cause of action for lack of informed consent. This decision has the potential to flummox the entire practice of medicine in Oklahoma because it is unclear whether any patient encounter can be conducted without the patient's informed consent; hence, it should be obtained in all patient encounters.
Many courts have held that emergency medical screenings under EMTALA need to be performed pursuant to a protocol. The court in Adams-Erazo v. Hospital San Gerardo7 held that a hospital must strictly comply with its protocol in order to avoid liability under EMTALA for an inappropriate screening. In this case, the patient presented with multiple gunshot wounds; the hospital's protocol required identification of the number of wounds and their depths and locations, among other things. The protocol was not followed and the patient died (presumably not because the protocol was not followed). The court held that a jury could find that the emergency medical screening was inappropriate. Although it may be presumed that the ED providers had better things to do than to count and measure wounds in such a critical situation (such as attempting to save the patient's life), the court did not see it that way.
These are merely highlights of the year in review. A more complete presentation on cases of interest will be provided at this year's ASHRM annual meeting.
References
No. 1D15-0109. (Ct. App. 1st Dist. Fla. October 28, 2015)
42 U.S.C. § 299b-21
448 SW 3d 796 (Ky. 2014)
No. 14-1140 (U.S. June 27, 2016)
See U.S. Const., Art. VI, cl. 2 (the "Supremacy Clause")
No. 111877 (Okla. April 19, 2016)
No. 13-1918 (D. P.R. July 24, 2015)