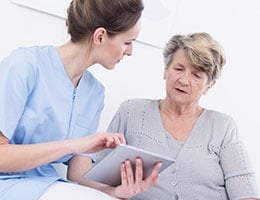 According to ENA, retrospective chart review is a critical element of ongoing triage competency validation. The RSQ® Solutions – Triage Assessment tool is built upon triage best practices and provides a mechanism through which your organization can implement and execute a scalable and sustainable chart review process.
Using this tool, nursing management can easily assess triage competency on an ongoing basis; it allows them to:
Determine the accuracy of triage levels assigned by an individual nurse or by the entire department.
Measure overall improvement in a department's triage accuracy.
Pinpoint performance improvement opportunities for individual nurses who might consistently struggle to the match initial level with the post-reviewed level.
Isolate department- or facility-wide trends in triage accuracy to target for clarification.
Identify key documentation elements to reinforce for compliance training.
Why add the assessment when we already have triage education?
Knowledge ≠ Competency Online education imparts knowledge – an understanding of concepts and an awareness of facts. Classroom testing after taking a course only validates a learner's understanding of the content, but it doesn't necessarily imply they can apply that knowledge in the actual practice setting. The RSQ® Triage Assessment tool measures competency, which is defined as displaying ability, skill and aptitude; it provides a mechanism to test how a nurse can take what they have learned in courses and implement those concepts into their practice.
Reality Check for Nurses Using a retrospective chart review tool such as the RSQ® Triage Assessment provides a unique reality check for triage nurses. As they review their own actual prior patient encounters, the assessment reinforces critical thinking and helps identify applicable risk factors. The review serves as a patient encounter "do-over" to provide perspective on what they might have done differently.
Half-Life of Newly Learned Information It is normal to forget newly learned information as time passes if it isn't reviewed. The RSQ® Assessment tool reinforces the learning experience and personalizes coaching tips based on an individual nurse's patient encounter. As the nurse enters information from an actual prior patient encounter, the program interactively serves up critical thinking tips based on data entered. The assessment tool coaches each nurse by recommending what to think about in that moment if they were to encounter this same situation again. For example, if chest pain onset was sudden, the system prompts the nurse with specific criteria and/or red flags to consider how it would affect the level assigned.
How does it work?
Assessment Planning Process
As the administrator of the program, a clinical educator, nurse manager or director will first define the requirements of their triage assessment program, including the number of charts entered for each chief complaint over a given period. There are seven chief complaint templates available:
Adult Abdominal Pain
Adult Chest Pain
Adult Sepsis
Behavior Health
Pediatric Fever
Pediatric GI
Pediatric Respiratory
As a best practice, we recommend starting with the following requirements:
Experienced Nurses – Begin with a monthly requirement of reviewing 15 percent of the number of patients they would see on average for one 12-hour shift. This will vary depending on your emergency department. If 80 patients are seen on average per 12-hour shift, the experienced triage nurse would be required to enter 12 records each month. This number can taper and the review can move to quarterly as staff improve their matching triage scores.
Newly Graduated Nurses – Begin with a monthly requirement of reviewing between 20 and 50 percent of the number of patients seen on average for one 12-hour shift. If the average is 80 patients, the newly graduated nurse would review between 16 and 40 records per month. This number can taper as proof of correct triage levels becomes evident. To implement this, allow for dedicated computer time separate from patient care.
With this foundation, an administrator has the autonomy to modify the review period and the number of charts required. Management might also choose to have nurses complete a set number of reviews for each chief complaint or choose three chief complaints to focus on in one period and change those focus chief complaints for the next. The administrator might also create personalized criteria based on:
Time spent working in triage
Remediation requirements
Chart Entry Process for an Individual Nurse
Once the requirements are set, nurses will pull a corresponding chart from a patient they've already seen and enter it into the assessment tool. They will select one of the seven templates and enter critical data into the system from the encounter, including age, gender, appearance, initial triage level and vital signs.
As they populate the template, critical thinking tips appear on the right side of the assessment tool. Certain areas are marked as red flags based on the data entered, calling a nurse's attention to each critical thinking tip.
At the end of each entry, the nurse will be able to evaluate the box labeled "Triage Considerations," which are recommendations related to ESI, CTAS, or other resources based on elements entered. Using this retrospective information, the nurse will then select the triage level they would choose post-review and compare it to their initial assessment.
An individual nurse also has the ability to run a personalized compliance report to identify opportunities for improvement in their own performance.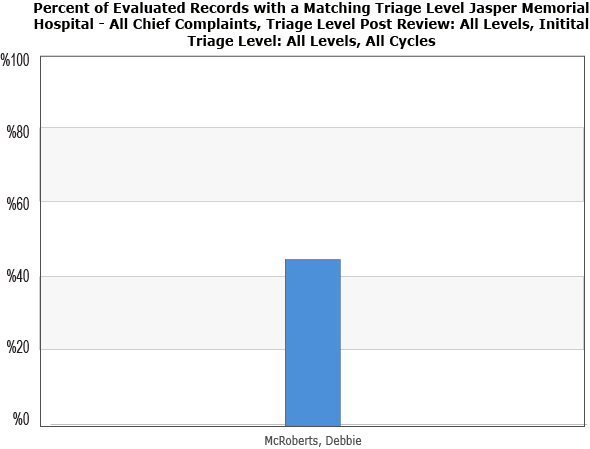 Reporting Options for Management
As a nurse manager, the RSQ® Triage Assessment tool allows you to run reports on:
Matching Triage Levels – You can run a report by chief complaint to see the percentage of presentations that are being triaged correctly. This can help you track improvements in triage performance across time. It can also help you compare the triage accuracy of certain chief complaints by facility.
Documentation Compliance – You can choose which documentation elements you believe are most critical to each chief complaint and run a report showing compliance with those elements. For example, one might choose the indicators in the chart below as important to document for an adult abdominal pain presentation, and then see how often these are actually being documented in your department.
If you're interested in taking your triage training program to the next level, a retrospective triage chart audit tool might be the next logical step for department. Reach out to our team for a live demo of our triage competency assessment tool.