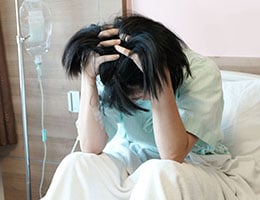 [5 MIN READ]
The number of patients presenting to the emergency department with a psychiatric and/or substance abuse problem has increased in recent years from 6% to 15%. With this significant increase, it's imperative our EDs have the tools and resources necessary to assess and treat these patients.
Mental Illness: Undiagnosed & Untreated
While those numbers are helpful in identifying overt problems, it's interesting to note how many patients coming into EDs have a mental illness that is undiagnosed and untreated.
We did a study looking at 100 adults, and the same study with 100 kids, presenting to the ED without a chief compliant of a psychiatric disorder or substance use problem.
We used the Mini-International test as a screening tool to evaluate whether someone could have one of 16 psychiatric diagnoses. We found that 45% of the adults and 40% of the children (in inner city Chicago) screened in for one or more psych diagnoses.
With 15% of adult patients presenting with a psychiatric complaint and another 45% having an undiagnosed issue, it's a top priority for EDs to complete a behavioral assessment.
Best Practices to Working with Behavioral Health Patients in the ED
Emergency physicians and departments are not comfortable dealing with psychiatric patients. We have protocols and entire teams dedicated to specific conditions like chest pain, sepsis and stroke; yet when it comes to a psychiatric patient, we don't have the resources available or haven't put them to use for those patients presenting with a psychiatric complaint. Our priority needs to be developing some level of comfort with and understanding of the most common behavioral health issues presenting to the ED. We can do this through education.
Next, we need to develop protocols for psychiatric patients. With chest pain, we have a protocol for who is responsible for completing certain treatment and when. We need to do the same for psychiatric patients and then educate our providers on the proper steps to work with these patients.
3 Areas of Focus with Agitated Patients
If a patient is agitated, the first step is to use verbal de-escalation. Give the patient space and don't be provocative. Then work to find out what's causing their agitation or what we can address to help them work through it. What do you do if this doesn't work to calm the patient?
Medicate to calm the patient. The American Association of Psychiatry recommends determining the underlying etiology of the patient's agitation, and then try to address it with the proper medication.

Is the agitation due to substance abuse or an underlying psychiatric illness such as delirium or dementia? Once determined, you might decide your patient just needs Ativan (lorazepam) rather than the Haldol Ativan cocktail.
With other patients, you might find they only need a specific problem addressed. Do they just want someone to be with them? Do they need to make a phone call? Do they need something to eat? Are they in pain and just want their medical problem addressed?
Restraint should come as a last resort. If a patient needs to be restrained, we need to ensure that all staff are trained how to do so in a professional, appropriate manner. Well-designed EDs or psychiatric services rarely resort to restraint because they deal with the front-end issues well.
Unfortunately, in the ED, we tend to keep a patient with agitation or a psychiatric complaint in the waiting room for minutes to hours before an evaluation. It's a stressful, noisy and chaotic environment; it's inevitable that some might become agitated or out of control.
Addressing Agitation at Triage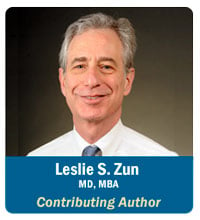 As a best practice to gauge agitation and prevent situations from escalating, I recommend that EDs assess a patient's level of agitation at check-in. A few years ago, we had 100 patients come into the ED with a psychiatric complaint who self-declared their level of agitation. On a scale of 1 to 5, how agitated did they feel? 80% of those patients felt some level of agitation, even though they may not yet have exhibited the behavior. They weren't pacing, threatening or screaming, but inside they were feeling agitated. With this information, we were able to start treating these patients with Ativan (lorazepam) before it got worse.
Emergency departments could start assessing agitation like this at triage. Why wait until patients are acting it out? Why not treat them before it gets so bad that we have to restrain them or do something significant?
Trends in Behavioral Health in the ED
As the health marketplace continues to try to get providers to do more for less, there will be a push for EDs to do more to treat psychiatric patients. Providers will likely have to do more to assess and determine the disposition of these patients, as well as determine whether they can go home, be admitted, or (re)start certain medications.
Unfortunately, the resources we have to treat psychiatric patients in some community EDs are limited. More communities and hospitals will move toward acute stabilization units, psychiatric observation or psychiatric emergency service predicated on the reduced dollars and the capability to put these patients into inpatient beds.
Rather than having a patient sit around the ED for hours to days waiting for an inpatient bed, we could place them in psychiatric observation. Studies – as well as my personal experience – have demonstrated that many patients can go home after approximately 24 hours of treatment. I think we'll see more emphasis for EDs to find reasonable and appropriate treatment locations for psychiatric patients instead of pushing them into inpatient beds, and resources will be more limited for psychiatric inpatient services as time goes on.
We are starting to see a shift toward the model of integrated care. As part of the Lake County Health Department, we have now embedded a behavioral health specialty into each of our 6 federally qualified health centers. In places like this, patients can see a primary care provider with a counselor right next door. Patients can be evaluated right away, and if treatment is necessary, referrals can be made to a psychiatric service or substance abuse treatment. This integrated model has the potential to treat patients before their complaints warrant hospitalization or a visit to the emergency department.