One of our goals at The Sullivan Group is to bring you practical pearls to reduce risk, improve patient safety, and enhance quality in your everyday practice. To that end I thought I would share with you this "alphabet soup" of healthcare risk management and patient safety tips assembled from years of observation and experience.
ABCs of Risk Management
Abdomens and chests are powder kegs. Some of the riskiest problems in medicine live in there! Evaluate patients with abdominal and chest pain thoughtfully and thoroughly.
Bandemia is bad. Check the differential on every WBC you order. If you see more than 10% bands, this is a red flag for serious bacterial illness.
Children's behavior is everything. Your documentation of an infant or child's appearance and activity should convince everyone that the child was well and not toxic at the time of discharge.
Disprove the dangerous. The buck stops with you. You do not have to order every test on every patient every time, but you are expected to consider and rule out potentially life-threatening conditions.
Explain, explain, explain. Tell the patient in simple terms what they have, what needs to be done to get them better, and how long it will take.
Follow-up is your legal life vest. Arrange close follow-up. Discharge instructions should include when to be seen next and by whom, as well as specific reasons to return.
Go the extra mile. Patients are hurt, cold, scared, and hungry, and you have the power to help them. Treat patients like you would your own mother or sibling (assuming you like your relatives). Get them a blanket or pillow.
Headaches can be horrible. Most are tension or migraine, but consider subarachnoid hemorrhage in patients whose headache is sudden, the worst of their lives, or different.
Inpatient admission saves lives. Most suits involve patients who are discharged rather than admitted. Consider observation or admission for patients whose diagnosis is not clear cut but potentially serious.
Juries love documentation. One or two years later you will not remember the patient who sues you. Document well, and your chances of stronger defense, dismissal, or winning at trial are better.
Knowledge deficits lead to mistakes. Read, listen, ask, and learn about new guidelines and technologies. Keep your skills updated. Become the expert – then teach everyone else what you know.
Leave biases and baggage at home. Work on your own wellness and bring your "A" game, an open mind, and compassion with you instead. Remember that a good shift is your choice.
MRSA spreads like wildfire. Treat soft tissue infections aggressively. Be on the lookout for complications, such as pneumonia, sepsis, and spinal epidural abscess.
Necrotizing fasciitis is fatal unless diagnosed early. Arm or leg pain out of proportion to findings should arouse clinical suspicion.
Optimize communication with everyone – the patient, their family, nurses PAs, and physicians. Listening well is the key to teamwork and patient satisfaction.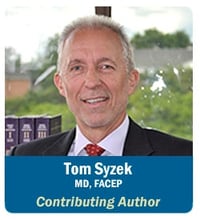 Pulmonary embolism is the great masquerader. Chest pain, dyspnea, syncope, and tachycardia can all be clues. If you don't think of it you will miss it.
Quality of care starts with you and your team. Lead the way. Advocate for patients whenever possible. When you aren't saving lives, at least relieve suffering.
Risk factors rock. Seek them and you shall find the diagnosis. Fail to ask about risk factors, and you may miss the boat.
Stroke and Sepsis are the latest villains in the malpractice world. Delayed diagnosis and treatment can result in disaster for the patient.
TIA is to stroke as unstable angina is to myocardial infarction. TIAs are true emergencies.
Use the history, risk factors, exam and test results to shape your differential diagnosis and medical reasoning into a compelling story so logical that any reasonable physician and every juror can only come to one conclusion – yours.
Validate your colleagues on the healthcare team. Working together achieves optimal quality of care, reduction of errors, and improved patient safety.
Wound care is fraught with complications. Rule out neurovascular and tendon injuries. X-ray wounds
that are caused by glass. Warn patients about possible retained foreign bodies and infections – no matter how well you looked and cleaned.
X-ray imaging is an invaluable tool. Be familiar with the indications, guidelines, and limitations. CT does not always show appendicitis or subarachnoid hemorrhage. X-rays do not replace clinical judgment.
Young and elderly patients are high risk. Their presentations are often atypical, and complete history may not be obtainable. Beware the extremes of age. The 85+ age group is the fastest growing demographic in the U.S., so bone up on geriatrics!
Zebra retreat is in the family of cognitive errors. Anchoring, availability, confirmation bias, diagnostic momentum, premature closure, search-satisficing, triage cuing, and vertical line failure are all siblings in the same family. Knowing them will help you avoid them!
Interested in Learning more for CME?
Explore our RSQ® Education Library.