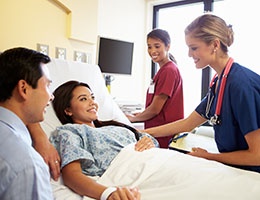 Patient experience is an area of healthcare that has a significant impact not only on an organization's reimbursement, but also on a hospital's professional liability (HPL) and exposure to litigation. As a result of recent regulatory changes from the Affordable Care Act, it appears that hospitals have become even more judicious in their allocation of resources to various internal initiatives. With this in mind, let's explore recent evidence that supports a rational, targeted approach for impacting HCAHPS that should lead to an improvement in reimbursement and reduction in liability.
Quick Summary of the HCAHPS Relationship to Hospital Value-Based Purchasing Program
As a result of the Patient Protection Affordable Care Act, a portion of a hospital's CMS reimbursement is now tied to its performance on HCAHPS. This new connection occurred through a program referred to as the Hospital Value-Based Purchasing Program (HVBP Program). One key component of that program is the Patient Experience Domain, which currently accounts for 25% of a hospital's performance in the HVBP Program.
Through a somewhat complicated algorithm, the hospital's HCAHPS surveys are converted into a Patient Experience Domain Score; this becomes part of the Total Performance Score and influences the hospital's CMS reimbursement. If the hospital is able to significantly improve its HCAHPS standing in relation to the rest of the nation or if it achieves a very high standing in relation to the rest of the nation, it can dramatically improve its Total Performance Score and consequently its CMS reimbursement.
Statistically Significant Correlation between Patient Experience & Hospital Professional Liability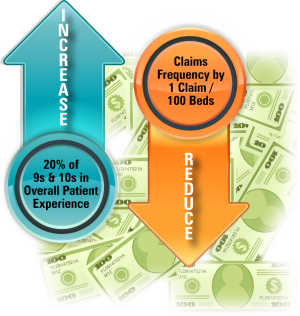 While the belief that "happy patients are less likely to bring litigation" has been a pretty well accepted philosophy in healthcare, the 2014-2015 Aon/ASHRM Benchmark Analysis provided additional evidence to validate that notion. This annual benchmark analysis reviews trends in claims data from over 2,000 hospitals across the country. During this particular period (2014/15), they uncovered and published an evidence-based relationship between the Overall Hospital Rating1 - one of the key HCAHPS categories - and the hospital's HPL claim frequency.
Relationship between Overall Hospital Rating & Liability
Hospitals that received 9s and 10s in Overall Hospital Rating 50% of the time averaged 2.6 claims per 100 beds.
Hospitals that received 9s and 10s in the Overall Hospital Rating 80% of the time averaged 1.1 claims per 100 beds.
The study confirms the idea that if your organization can drive up its Overall Hospital Rating, you can expect to see a reduction in HPL claims per 100 beds.
Since one key intersection between reimbursement and liability appears to be the Overall Hospital Rating, the next reasonable step is to create a targeted strategy to impact that number.
Targeting HCAHPS Categories that Impact Overall Hospital Rating
In 2016, the Center for Medicare & Medicaid Services (CMS) performed an analysis of HCAHPS scores based on 3.2 million surveys. The study identifies 5 HCAHPS categories that are most closely tied to the Overall Hospital Rating score.
HCAHPS Categories with the Strongest Correlation to Overall Hospital Rating2
| | |
| --- | --- |
| HCAHPS Category | Overall Hospital Rating |
| Communication with Nurses | 0.64 |
| Communications with Doctors | 0.50 |
| Responsiveness of Hospital Staff | 0.51 |
| Pain Management | 0.54 |
| Communication about Medications | 0.48 |

According to the evidence, the most effective approach to improve your reimbursement and reduce your liability must start with an investment that drives improvements in these 5 HCAHPS categories.

Patient experience is an area of healthcare that will continue to evolve. However, armed with the evidence-based approach, an organization can develop a strategy to strengthen its reimbursement and reduce its professional liability costs.
Resources
1The Overall Hospital Rating is measured on a scale from 0 to 10, with higher scores indicating quality.