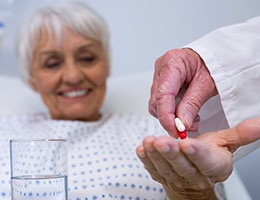 [9 MIN READ]
I certainly don't pretend to have the answer to the question of how to eliminate the opioid epidemic. There are legislative, regulatory and policy issues far greater than any one of us, but what can the medical community do? This was the call to action by Stephen Stack, President of the AMA, who also happens to be an emergency physician. Dr. Stack clearly labels this as an epidemic and says we have to do something.
"As physicians, we are on the front lines of an opioid epidemic that is crippling communities across the country. We must accept and embrace our professional responsibility to treat our patients' pain without worsening the current crisis. These are actions we must take as physicians individually and collectively to do our part to end this epidemic."
Alternatives to Opioids (ALTO)
Alternatives to opioids now has its own acronym – ALTO. ALTO applies mainly to the ED, but it also applies to any practice settings that treat acute pain. The key principles of ALTO are to use opioids as infrequently as possible, only as a second line, and only after using/exploring other alternative treatments. For example, for kidney stone pain – one of the worst pains imaginable – an option is to use intravenous lidocaine instead of opioids. Practitioners use lidocaine to anesthetize wounds prior to suturing. When given in a different formulation intravenously, it gets into the vasculature (i.e., blood vessels) and the ureter to relieve the pain associated with passing a stone; it is therefore effective and safe for renal colic.
Regarding low back pain, studies show that opioids really don't treat the problem in the long run, they just mask the pain temporarily. ALTO recommends non-steroidal anti-inflammatory drugs such as ibuprofen, topical patches, and trigger point injections. This takes me back to 30 years ago when my ED Medical Director refused to give any patient an opioid prescription unless he/she had a major broken bone; he would only use ibuprofen. Though I thought it was unreasonable at the time, looking back, it seems he may have foreseen what was coming.
Another recommendation is ultrasound-guided nerve blocks for extremity fractures. If a patient breaks an arm or leg, rather than going right to the central nervous system-acting opioids, another option is to employ ultrasound, identify the affected nerve, and block it. This can achieve total pain relief for a period of time, maybe for several days. ALTO also advocates non-opioid medications for acute headaches, which account for 5% of ED visits in the U.S. There are millions of ED visits for these conditions every year, so it's a great opportunity to consider effective alternatives and reduce the use of opioids.
Research is emerging that ketamine is effective for pain relief in the ED. Cutting-edge EDs are safely using ketamine for a variety of conditions, including dislocations, fractures, chronic pain, etc. It's important to follow guidelines and be familiar with the drug, including the risks, benefits and alternatives. Ketamine can also be used in the ED for patients who are already taking daily prescription opioids as an alternative to exclusively giving strong intravenous opioids when we feel there are no other analgesic options. Get educated; attend one of the seminars related to the use of ketamine and know what you're doing before using it because there are potential hazards as well.
Intimate knowledge of pharmacology is critical as practitioners explore these alternatives. Pharmacies are required to populate the PDMPs and access these databases when they dispense medication. Often when I would prescribe medications, the pharmacies would call me to ask: Did you know he/she just received this other medication? Did you know there was this interaction? Or did you really mean to do this? Pharmacists are extremely knowledgeable and helpful; I welcomed any call from the pharmacy that questioned whether this was really in the best interest of the patient.
For the first time, there were hands-on demonstrations and learning stations on how to implement ALTO examples at the 2017 American College of Emergency Physicians (ACEP) Scientific Assembly.
Resources & Guidelines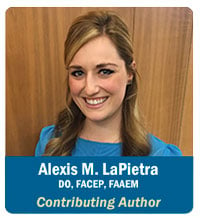 There are other resources and guidelines that can be used. In 2016, the CDC came out with its Guideline for Prescribing Opioids for Chronic Pain; it is intended for chronic, non-cancer pain. It is aimed at primary care physicians who prescribe opioids for chronic pain, so it's not really applicable to post-op, urgent care or the ED. The guideline can be used for opioid selection, dosage, duration, follow-up and discontinuation. It can also be used to assess the risk of each patient:
Who is likely to get addicted?
What risk factors are present that may increase the likelihood of a patient getting addicted?
There is a checklist that can be applied, and it has informed discharge instructions for these patients. The guideline is also intended to facilitate addressing harms of opioid use.
Prescription Drug Monitoring Programs (PDMP)
A PDMP is a statewide electronic database that collects, maintains and disseminates information about controlled substances. The data submitted to each state's PDMP is provided by pharmacies rather than by practitioners when prescribing medication. Here's how it works: a practitioner (i.e., a physician, PA, or NP) treating a patient thinks he/she may need to prescribe opioid medication or a controlled substance; he/she can go online in his office/ED and access the PDMP database and search by name to find out if the patient has received any prior controlled substances – what, how many, from which physician, from which pharmacy, etc. The fact that patients exist in the database doesn't prohibit them from being prescribed medication; judgment and guidelines must be applied in interpreting the data.
PDMPs have numerous benefits. They are statewide initiatives, so the DEA is not involved. They support access to legitimate medical use of controlled substances. If a practitioner determines a patient is not an abuser, this will support access to legitimate prescription use. PDMPs help identify and deter/prevent drug abuse and diversion, as well as identify and intervene/treat (i.e., counsel and refer) patients who are receiving more prescriptions than they should and are addicted. PDMPs are also used to outline use and abuse trends and to educate everyone (e.g., legislators, practitioners, the public) about abuse, diversion and addiction.
Mandatory Training
Yet another partial solution to the opioid epidemic was suggested by an FDA panel that called for mandatory opioid training for doctors. Why not? We are in an epidemic, and we can use all the data and information we can get!
Strategies to Reduce Harm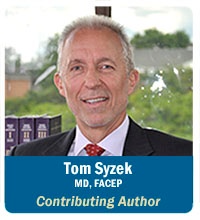 Strategies/approaches to combat the opioid epidemic need to be specialty-specific because locations, patients, circumstances, etc., vary. In its Guideline for Prescribing Opioids for Chronic Pain, the CDC reminds practitioners to "Start slow and go slow" (i.e., to prescribe the lowest effective dosage and carefully reassess evidence of individual benefits and risks when considering increasing dosage).
For acute pain, practitioners should: consider the alternatives; limit quantities and refills; educate the patient on risks and benefits and potential addiction warnings; communicate with the primary care physician so that everyone is on the same page about who is getting what (e.g., if in an episodic care center such as urgent care, ED, etc.); assess the risk factors for unsafe use by talking to the patient and perhaps administering a questionnaire to determine what other medications he/she is taking that may lead to a bad outcome/overdose; and access the PDMP before prescribing.
Guidelines for Emergency Departments
The 2017 Opioid Prescribing & Treatment Guidelines is a publication by Colorado ACEP. This directly addresses the opioid epidemic and is an excellent resource for physicians in emergency medicine or any other specialty. It covers many of the topics we've discussed here – how we got to this point, current challenges, alternatives to opioids, how to treat and what to say to patients, where to refer patients, etc. This resource is free and available online.
The following are some recommendations from the 2017 Opioid Prescribing & Treatment Guidelines. These could be considered the "Eleven Commandments" of appropriately using opioids to avoid worsening of the epidemic.
Recommendations for Clinicians
Avoid opioids if possible; start only after other alternatives.
Use tools to assess risk for abuse and medical comorbidities.
Consult your PDMP to assess for possible drug abuse, misuse or diversion.
Develop and use protocols for opioid use.
Utilize alternative treatments for back pain.
Avoid opioids with benzos, barbs and other narcotics.
Limit opioids for chronic pain from one prescriber.
Avoid extended-release/long-acting opioids for acute pain.
Verify identity of patients receiving controlled medications.
Educate patients about side effects and addiction potential.
EDs should not refill lost or stolen opioid Rx.
Treatment of "PWIDs" (People Who Inject Drugs)
In order to positively impact the opioid epidemic, practitioners will require not only more education, but also a change in attitude to a non-punitive approach to people who inject drugs – "PWIDs." This is difficult, because patients can be very manipulative and problematic when they're addicted and desperate; the only thing on their mind is that they've got to get a fix/a prescription. It can be challenging to withhold judgment with these patients, but this is basically the "Mother Theresa" approach – Mother Theresa said that she didn't question why people came to her hungry, she just fed them. Practitioners must use empathy and meet these patients where they are. As difficult as this is, in the long run it is really the only way to impact patients in the acute care setting.
We need to educate ourselves as practitioners so we are able to counsel patients to reduce the dangers of overdose, infection and complications. There are consequences to ignoring the issue or blaming the users. A famous instance occurred in Austin, Indiana; there was an HIV epidemic where 190 cases spread like wildfire in a tiny community because of judgmental attitudes, lack of recognition, and lack of access to care. There are "syringe-access" programs that support, value and prioritize the human rights and dignity of PWIDs, while challenging drug-related stigma. Though these programs are politically highly controversial, they are supported by the AMA when combined with addiction counseling. Practitioners should also give or prescribe Narcan (naloxone) at discharge to those at high risk for overdose.
This is an example of a handout for patients from Colorado ACEP: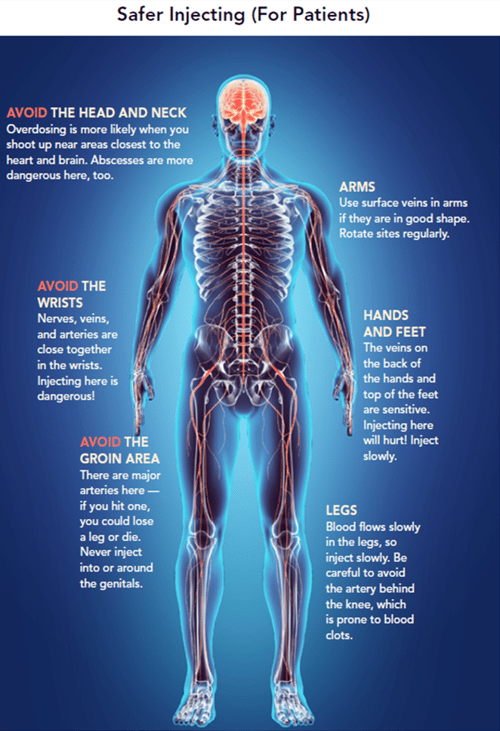 Some programs even go so far as to advocate teaching patients how to safely inject themselves in order to avoid infections, blood clots and organ damage. In the past, this would have been considered heresy or malpractice. The thinking now is that while practitioners cannot stop IV drug abuse during a single episode in an acute care setting, they can help prevent complications such as hepatitis, MRSA, and the spread of HIV. This is a change in practice; the idea now is to give patients all the information possible to keep them safe while addressing the longer-term rehab, detoxification, policy and regulatory mechanisms.
Opioid Safety Conversations
What can hospitals and healthcare facilities do? What tools can hospitals and healthcare facilities use to educate, monitor quality initiatives, and improve practices related to opioid safety? I put together a sample survey-questionnaire as a takeaway. You can modify it and use it to assess your facility and to fashion your own self-assessment and monitoring program so that together we can positively impact the opioid epidemic that is indeed a threat to our patients, a challenge to all of us as healthcare professionals, and a crisis of major proportion to the entire country.