Since we recently laid out an exercise mapping clinical risks to frequent diagnosis-related claims in Emergency Medicine, we're circling back to recommend a risk mitigation exercise for another area of high risk medicine, Obstetrics.
A recent The Doctors Company analysis identified the most frequent obstetric claims as:
22% Delay in Treatment of Fetal Distress
20% Improper Performance of Vaginal Delivery
17% Improper Management of Pregnancy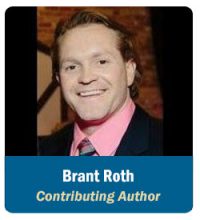 In this risk mitigation strategy exercise, we've identified three major categories of clinical risk based on the phases of obstetric care: Prenatal, Labor and Delivery, and Postpartum.
After completing this exercise, organizations should gain a clearer understanding about the areas of exposure and conditions that have historically led to litigation for their providers. It is also a good mapping tool to help tie the cost of those claims to the specific adverse events for the financial stakeholders. This exercise can also serve as a good analysis for leadership to populate in hopes of validating the efficacy of their existing risk mitigation solutions.
Completing the Risk Analysis
To analyze your risk mitigation strategy in Obstetrics, we recommend you start with the three major phases of care as the areas of clinical risk (below left), current risk mitigation programs in place to address that exposure (below middle), and the impact of those programs on outcomes (below right).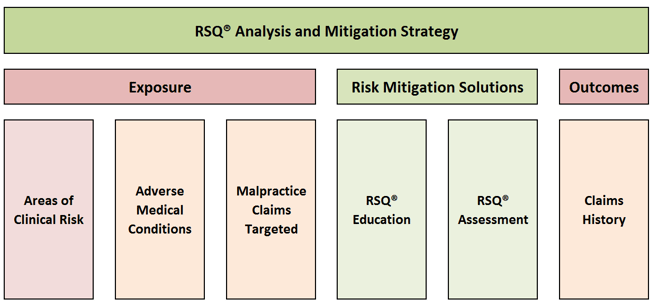 Step 1
Within the Areas of Clinical Risk in Obstetris, we break down exposures by the three areas of care: Prental, Labor & Delivery and Postpartum Care. In the example below, we focus on Labor & Delivery and the associated adverse medical conditions.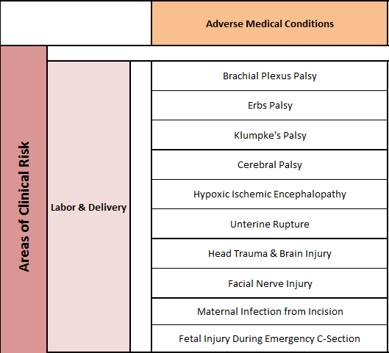 From those adverse medical conditions, we then list the common alleged malpractice claim. As an example, failure to resolve a shoulder dystocia is most commonly related with the medical conditions of Brachial Plexus Palsy, Erbs Palsy, and Klumpke's Palsy.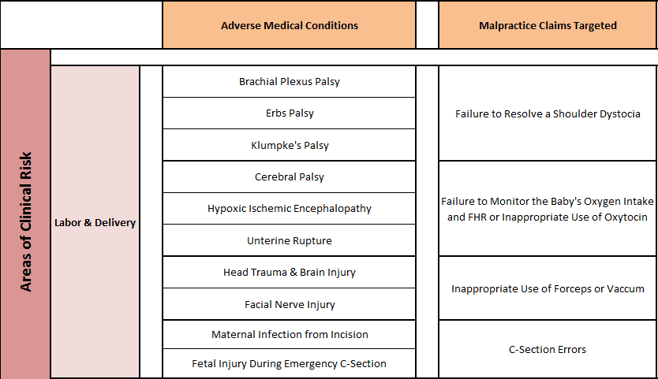 Step 2
The next step of this exercise is to place your current internal process in the blue column to map how your organization currently addresses mitigating this risk.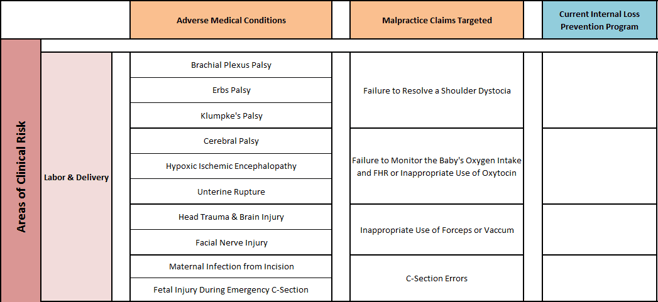 Step 3
The last step of building a strategy to minimize obstetric risk is contingent upon pulling your previous five years of loss runs for this specialty. In this example, we show what a completed analysis might look like with claims data populated.

We presume that many hospitals and health systems have existing processes in place to mitigate the risk against many of these claims. However, given the expense of Obstetrics claims, this area still deserves a focused approach to risk mitigation.
To gain access to this worksheet, please email Brant Roth at broth@thesullivangroup.com.