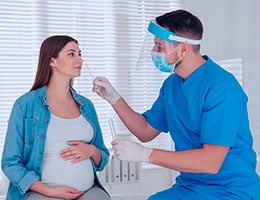 Updated: April 30, 2021
Pregnant women who have known or suspected COVID-19 infection need to be evaluated quickly to determine the severity of their symptoms and if they have risk factors that put them at risk for severe disease. New data on the outcomes for pregnant women have shown that pregnancy is a risk factor for increased severe mortality and morbidity; for example, respiratory distress requiring intubation and admission to ICU, maternal death, and obstetric complications such as preterm birth and stillbirth (Jama Intern Med 2021).
Seven percent of pregnant women who underwent testing for COVID-19 were found to be positive, with 75%-85% asymptomatic and 90% stable enough to be treated outpatient. Thus, most women diagnosed with this infection can be treated without hospitalization, but all known or suspected infected patients must be closely monitored.