Clinicians play an integral role in leading the adoption of CMS regulatory changes.
What follows is a summary of program updates for FY2017 that will impact healthcare reimbursement.
Value-Based Purchasing Program:
The Value-Based Purchasing (VBP) Program for FY2017 (with performance period of 2015) will focus on several domains:
Clinical Care - This metric for FY2017 will be monitoring clinical processes related to Acute Myocardial Infarction (e.g. lytic therapy within 30 minutes); influenza immunization; and OB (elective delivery prior to 39 weeks gestation). The Outcomes Domain will fall under the Clinical Care Domain and will monitor the 30-day mortality rates for AMI, heart failure, and pneumonia. The list of required elements is not extensive, and compliance should be relatively easy to accomplish. TSG has a series of online courses and online performance evaluation tools to improve quality and reduce practitioner variability with a specific focus on VBP metrics.
Safety - This metric for FY2017 will be monitoring Healthcare-Associated Infections (HAI) and complication/patient safety indicators;

Once again, the key is a systematic approach to care based on the best evidence, education, monitoring, and feedback to the practitioners. TSG has created online education and other tools to assist in creating a systematic approach to quality and compliance.

Patient Experience of Care -This is basically the HCAHPS measurement program. Measurements include patients' response to such things as:

communication with nurses
communication with doctors
Hospital staff responsiveness
pain management, etc.

There are a total of eight categroies, but the first four mentioned above have the strongest impact on meeting HCAHPS goals. TSG has created a full curriculum related to the Patient Experience Domain for the entire hospital staff addressing both the hospital- and office-based settings. See this report for additional information.

Efficiency - The goal of this domain is to reduce the overall cost per Medicare and Medicaid beneficiary. In response, organizations and clinicians will need to be more judicious in the ordering of tests, labs, and other imaging while ensuring high-quality care and patient safety.
The full financial impact for the VBP program (2017) will be two percent of the CMS-related revenue. Hospitals will be compared against each other. The winners hold onto their two percent; the losers lose it.
Readmissions Reduction Program: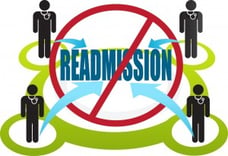 This program has received a lot of press and discussion in medical journals. This metric monitors 30-day readmits of patients with: AMI, heart failure, pneumonia, COPD, total knee arthroplasty, and total hip arthroplasty. Many organizations have already implemented system solutions to integrate the healthcare team to avoid readmits. TSG has created a library to assist in this important patient care area and quality measure. In 2017, winners of this measure will retain three percent of their CMS reimbursement; losers can lose up to three percent of that number.
Hospital-Acquired Conditions Program:
This metric will be monitoring the rate of hospital-acquired conditions in the following areas: central venous catheter-related bloodstream infection; postoperative sepsis; postoperative pulmonary embolism or deep vein thrombosis; pressure ulcer; iatrogenic pneumothorax; postoperative hip fracture; postoperative wound dehiscence; and accidental puncture or laceration. In 2017, winners of this measure will retain one percent of their CMS reimbursement; losers can lose up to one percent of that number.
Add up the numbers. When the value- and quality-based programs are fully operational, organizations can lose up to six percent of their overall CMS reimbursement. With reimbursement for most organizations at over 50 percent from CMS, a six percent reduction in CMS-related cash flow is untenable. CMS has fashioned this reimbursement as an "incentive." That suggests reimbursement beyond the current bottom line for success in complying with the VBP metrics. However, know that the reality is that dollars will be held back and only paid out upon meeting these metrics; it seems to have more the appearance of a penalty.