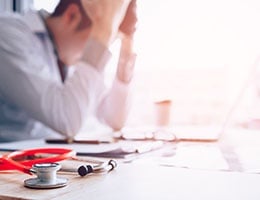 [5 MIN READ]
Despite the wake-up call given almost 20 years ago by the Institute of Medicine's report "To Err is Human," medical errors still occur at alarming rates.
The landmark publication estimated that up to 98,000 Americans die each year from medical errors, and one out of every twenty-five hospitalized patients is harmed by a medical mistake.
There is, however, cause for guarded optimism. Many organizations, agencies and legislatures have stepped forward and created solutions and educational programs targeted at reducing medical errors.
For example, the state of Florida in conjunction with the State Boards of both Allopathic and Osteopathic Medicine has created and mandated that physicians complete a two-hour continuing medical education (CME) program every two years as a requirement for re-licensure.
The course curriculum must include "a study of root cause analysis, error reduction and prevention, and patient safety." In addition, the program must cover wrong site/wrong patient/wrong procedure surgery and a list of medical and surgical conditions that are frequently subject to quality of care violations.
As a healthcare educator, I have experience teaching this CME course, both in person and online. The Florida mandatory CME covers important issues that every clinical practitioner should know and incorporate into daily practice, but they are critical and relevant concepts for providers in all states.
The following list of "7 Things Every Provider Needs to Know" has been gleaned from the Florida CME course as well as other patient safety and risk management resources.
7 Things Providers Must Know
A study of 23,658 malpractice cases by the Harvard Medical Industries (CRICO) database identified 7,149 cases (30%) where communication failures caused patient harm or death.

Breakdowns in communication occur throughout healthcare settings: 48% happened in office or ambulatory settings; 44% in hospitalized patients; and 8% were noted in emergency departments. It is vital that healthcare communication is conducted properly and that understanding is confirmed. All too often, providers explain information to patients or colleagues and assume that it is understood.

Simple techniques such as "read back" or "teach back" can be employed to confirm understanding. Standardized handoff methods should be utilized when transferring medical information or patient care from provider to provider.

New strategies now include integrating the electronic medical record at the time of handoff; in such a system, the computer prints out a "handoff sheet" that the sending provider can actually hand to the receiving provider.
The Universal Protocol was introduced in 2004 and is widely utilized before surgical and medical treatment procedures. The Protocol calls for a pre-op verification process, marking of operative site while the patient is wide awake, and a "time out" before starting.
Unfortunately, we continue to see significant errors in this event category. Analysis of these types of mistakes usually reveals that either the Universal Protocol was not implemented or all three components were not carried out properly.
For example, in one case, a hand surgeon marked the correct wrist, but then proceeded to operate on the wrong digit, as there were no markings on the correct digit.
3) Sentinel Event Alerts
The Joint Commission notifies healthcare providers of dangerous patient safety situations and recent trends in medical errors by publishing Sentinel Event Alerts. These alerts are published intermittently as necessary. Recent subjects have included:
A presentation entitled "Medical-Legal Cases That Went South, Costing Over $30 Million" by Dr. Keith Klein, Professor of Medicine at the David Geffen School of Medicine at UCLA, reviewed 4 cases that revealed pitfalls to avoid:
Inadequate capture of

informed consent

electronically

Misuse/overuse of templates and cut-and-paste functionality
Misuse of shortcuts, checklists, checkboxes, and other tools that pre-populate information
5) Root Cause Analysis (RCA)
RCA is the process of evaluating and investigating an adverse event or medical error from a retrospective approach. The key is to ask appropriate questions until the flaw or mistake in the process or system (root cause) is identified and a solution is put in place. The goal is to reduce the chance that the event will reoccur.
It is vital that all patients have up-to-date lists of all medications taken. Lists should be carried at all times in case of emergency. As patients move through the healthcare continuum, medications must be reconciled.
The Joint Commission defines medication reconciliation as "the process of comparing a patient's medication orders to all of the medications that the patient has been taking." Patient harm can be caused by the omission of vital and routine medications. The same is true for continuing medications that should have been discontinued.
Research is revealing that physician burnout has a negative effect on patient satisfaction and preventing medical errors. A report by Shanafelt in the Mayo Clinic Proceedings found that 54.4% of physicians had at least one symptom of burnout.
Previously, a survey by the American College of Surgeons found an association between physicians with at least one symptom of burnout and the self-admission of making a recent medical mistake. Clinicians must be aware of the increasing presence of burnout, and healthcare organizations need to implement education programs and initiatives to deal with this issue.
Summary
The Joint Commission has determined that the top three root causes of significant medical errors responsible for patient harm or death are 1) human error, 2) communication and 3) leadership, not the technical skill or knowledge of the provider.
Traditional medical school and residency training programs did not cover these issues. It is therefore incumbent upon healthcare organizations, medical boards and state legislatures to close this educational gap by providing specific training in medical error prevention.
The current Florida mandated CME course can serve as a model in efforts to improve quality of care and reduce medical errors.
Related Content