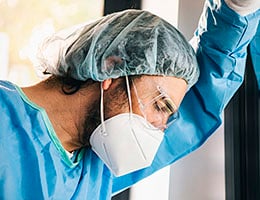 In 2019, the World Health Organization categorized burnout as a syndrome resulting from chronic workplace stress that has not been successfully managed. While burnout was a concern before COVID-19, its onset has exacerbated the problem.
According to an ACEP October 2020 poll, 87% of emergency physicians reported feeling more stressed since the start of the pandemic, and 72% reported experiencing more burnout on the job.
On the surface, burnout may be classified as a workforce issue; however, its far-reaching effects can threaten patient safety. In fact, research suggests that physicians experiencing burnout are twice as likely to make a medical error. Burnout should absolutely be considered one of the root causes of medical error.