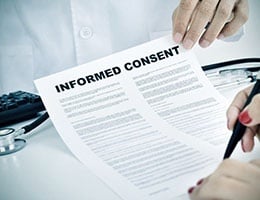 [7 MIN READ]
Obtaining the informed consent of the patient is required in all states before an invasive procedure that carries a material risk of harm is performed.
This is a non-delegable duty of the practitioner who is going to perform the procedure; this means that the practitioner is ultimately responsible for the validity of the consent and cannot avoid liability by claiming that it was someone else's responsibility.
However, obtaining informed consent should not be construed to be an obstacle. Obtaining informed consent can be a mechanism for reconciling the expectations of all parties involved.